Ships History
On June 10,1997, the Secretary of the Navy John H. Dalton announced in front of the Iwo Jima Memorial at Arlington National Cemetery the the newest amphibious warship will be named USS Iwo Jima (LHD-7), the seventh ship of the Wasp class.

Secretary Dalton said, "It is an honor for me to name our newest amphibious ship after the Battle of Iwo Jima. I am proud this great Nation will commission USS Iwo Jima to honor the enduring legacy of those who fought and dedicated their lives to the United States of America. Iwo Jima represents not just a single costly battle, so long ago. It symbolizes also, the proud heritage of our Marines and Sailors who recognize a greatness beyond themselves and their service. Because of Iwo Jima and battles like it, the world can appreciate America's commitment to democracy and justice"

USS Iwo Jima was christened at the Litton Ingalls Shipyard in Pascagoula, MS on March 25, 2000 by Zanrda Krulak, wife of retired Marine Corps Commandant Gen. Charles Krulak. The ship was commissioned on June 30, 2001 at the Naval Air Station Pensacola, FL and arrived at it's homeport of Norfolk, VA in August of 2001. USS Iwo Jima is the second U.S. naval ship to be named such; the first, decommissioned in Jamuary 1993 was the lead ship of the Iwo Jima class of amphibious assault ships. The principal mission of Wasp Class ships is to enable the Navy/Marine Corps team accomplish a seamless transition from the sea to a land campaign and conduct prompt, sustained combat operations at sea, as the centerpiece of the Navy's strategy Forward...From the Sea.

The Wasp Class is designed to carry nearly 2,000 combat Marines, 1,200 Sailors, a full range of Navy and Marine Corps assault helicopters, Harrier II V/STOL (AV-8B) "Jump Jets". 50 m.p.h.LCAC hover craft (Landing Craft Air Cushion), and many other landing craft or amphibious vehicles.

A Wasp Class amphibious assault ship is fully capable of amphibious assault, advance force and special purpose operations, as well as non-combatant evacuation and other humanitarian missions. Additionally, the ships are fully equipped with command , control, communications and Intelligence (C41) systems for flagship command duty; and have medical facilities...including a 600 bed hospital...second only to the Navy's hospital ships in capability.

LHD-7 is the second ship to bear the name "Iwo Jima." The first, LPH-2, designed from the keel up as an amphibious assault ship, was launched September 17, 1960 at Bremerton, Washington and commissioned August 26, 1961.

Fabrication work for the new USS Iwo Jima (LHD 7) began at Ingalls shipyard on September 3, 1996, and the ship's keel was laid on December 12, 1997. The ship was launched on February 4th, 2000, and was christened by her sponsor, Mrs. Zandra Krulak, wife of Commandant of the Marine Corps Gen Krulak, in Pascagoula, Mississippi on March 25th, 2000.

The commissioning crew moved aboard in April 2001 and made the ship's maiden voyage (accompanied by more than 2,000 World War II veterans-many of them survivors of the Battle of Iwo Jima) on June 23rd, 2001. She was commissioned a week later in Pensacola, Florida, on June 30th, 2001. Shortly thereafter, the ship and crew began an accelerated Inter-Deployment Training Cycle.

In March 2003, together with the 26th Marine Expeditionary Unit (Special Operations Capable), USS Iwo Jima (LHD 7) conducted her maiden, eight-month deployment, returning to Norfolk in October 2003 . Completing essentially four deployments in one, Iwo Jima's operational capabilities were put to the test as the ship inserted marines from the 26 MEU (SOC) into Northern Iraq during Operation Iraqi Freedom, patrolled the Persian Gulf, conducted operations in and around Djibouti as part of Operation Enduring Freedom, and executed a peacekeeping missions off the coast of war-torn Liberia, transiting more than 45,000 nautical miles.

On August 31, 2005, Iwo Jima was sortied to the Gulf of Mexico to provide disaster relief and to conduct support operations in the wake of Hurricane Katrina. Iwo Jima sailed up the Mississippi River to the city of New Orleans to directly support relief operations and act as the central command center for all federal, state, and local disaster recovery operations. During this critical period, Iwo Jima also served as the region's only fully functional air field for helicopter operations, conducting over one thousand flight deck operations; provided hot meals, showers, drinking water, and berthing to thousands of National Guardsmen and relief workers; provided medical services, including first aid and surgical services, for disaster victims; and conducted clean-up operations in the city and suburbs of New Orleans. Iwo Jima was proud to serve as flagship for the commander-in-chief, George W. Bush, and is only the second Navy ship to have been presented the flag of the President of the United States of America.

On June 6, 2006 Iwo Jima departed on her second deployment, this time with the 24th Marine Expeditionary Unit (Special Operations Capable). For the second time in her history, Iwo Jima was off the coast of Beirut, Lebanon helping to evacuate more than 15,000 civilians. Iwo Jima conducted Maritime Security Operations (MSO) in the Persian Gulf, participated in exercise Infinite Moonlight in D'Jibouti Africa and Exercise Inspired Union in Jordan. The USS Iwo Jima also aided in the Global War on Terrorism by providing support to the forces in Afghanistan and Iraq. The USS Iwo Jima returned to her homeport in Norfolk, VA on December 6, 2006 and began an extensive post-deployment maintenance period.

On August 26, 2008, IWO JIMA deployed for the third time, to the Middle East for a regularly scheduled deployment. After a successful transit through the Suez Canal and the Red Sea, IWO JIMA was tasked to turn south and begin maritime patrol off the coast of Somalia to assist in deterring pirate activities in the region. During her assignment to CTF 150, IWO JIMA tracked the pirated Motor Vessel Faina. With the Faina situation in a stand-off, IWO JIMA was returned to normal tasking of Maritime Patrol in the Gulf of Oman, northern Indian Ocean and Arabian Gulf. In the second month of the deployment, IWO JIMA played a vital role in EXERCISE RED REEF. Through the course of RED REEF, over 500 Marines from MEU participated in sea-power projection exercises with the various units of the Saudi Arabian military. In November, IWO JIMA participated in EXERCISE IRON MAGIC with the United Arab Emirates supporting 26 MEU amphibious operations and offload/backloads. IWO JIMA returned to her homeport of Norfolk, Virginia March 27, 2009.

On July 12, 2010, IWO JIMA deployed to participate in CONTINUING PROMISE 2010 (CP10) which encompassed joint civil-military operations including humanitarian and civic assistance, as well as veterinary, medical, dental and civil engineering support to eight partner nations, and to send a strong message of commitment, partnership and cooperation to Central and South America. Her accomplishments include maintaining the highest level of readiness and professionalism by seamlessly integrating with Marines and Sailors from Company A, 2nd Assault Amphibian Battalion, Combat Logistics Regiment 25, Marine Medium Helicopter Squadron 774 and MACS-2. Onboard IWO JIMA, the CP10 medical contingent of more than 500 joint military and international medical professionals and non-governmental organizations (NGO's) worked alongside host nationals to triage more than 39,000 primary care patients, perform 320 shipboard surgeries, dispense 76,000 prescriptions, and provide more than 26,000 veterinary services. In addition, military engineering teams and volunteers completed 26 projects to include building playgrounds, fencing and refurbishing schools and hospitals. During CP10, IWO JIMA was redirected to Haiti to provide Hurricane Assistance and Disaster Relief in the wake of Hurricane Tomas early November. Upon arrival, she provided timely and accurate damage assessments by conducting eight aerial reconnaissance flights incorporating non-traditional intelligence, surveillance, reconnaissance processes in order to determine the extent of damage and obstruction to main lines of communication along Haiti's southern peninsula. Once it was determined IWO JIMA mission was complete in Haiti She was released for one last logistics and replenishment port visit in Guantanamo Bay, Cuba before heading to Onslow Bay, N.C. to begin the off load of the CP10 contingent commands before returning to her Norfolk Va. Homeport November 18, 2010.


2011
April 25-May 1 - Participated in Fleet Week Port Everglades 2011 including Florida Marlins game April 26.
November 29 – Conducted composite training unit exercise (COMPTUEX) with 24th Marine Expeditionary Unit, and the Iwo Jima Amphibious Ready Group.
May 25-June 1 - Participated in New York City Fleet week and completed a community relations project at Lake Cemetery in Staten Island May 27.
2012
Feb. 24 – Announced as Battle "E" award winner by Naval Surface Forces
Feb. 28 - Capt. Grady Banister relieved Capt. Thomas Chassee as commanding officer.
March 27 – Deployed as part of the Iwo Jima Amphibious Ready Group with Marines from the 24th Marine Expeditionary Unit supporting maritime security operations and security cooperation efforts in the U.S. 5th and 6th Fleet areas of responsibility
(Ships History Continued)

Awards & Medals



Navy Unit Commendation Ribbon


Meritorious Unit Commendation Ribbon


Navy "E" Ribbon (3)


National Defense Service Medal


Global War on Terrorism Expeditionary Medal


Global War on Terrorism Service Medal


Armed Forces Service Medal (2)


Humanitarian Service Medal (4)


Sea Service Deployment Ribbon (4)

Command Crest


The coat of arms emblazoned upon a white oval enclosed by a blue collar edged on the outside with gold rope and inscribed "USS IWO JIMA" above and "LHD 7" below in gold. Iwo Jima was the site of one of the most important and bitterly fought amphibious operations of World War II. The United States Marine Corps War Memorial is based on the Immortal photograph of the flag raising on Mount Suribachi on February 23rd, 1945 and has become a symbol of strength, courage and valor. The three spearheads represent the amphibious triad: The Landing Craft Air Cushion (LCAC), The Amphibious Assault Vehicle (AAV), and the V-22 Osprey Tilt Rotor Aircraft. The light blue reflects the seas of the world. The USS IWO JIMA (LHD 7), one of the last ships propelled by steam boilers, is reflected by the white disc with the Hero's boiler. The USS IWO JIMA (LHD 7) is configured to deploy with the V-22 Osprey Tilt Rotor Aircraft. This is symbolized by the attacking Osprey. The previous USS IWO JIMA (LPH 2) was a helo-carrier during the Vietnam Era. The palm fronds commemorate the previous ship and its service in Vietnam. The motto is based on Fleet Admiral Chester W. Nimitz's words when he spoke of the Sailors and Marines who fought at the battle of Iwo Jima: "Among the Americans who fought at Iwo Jima, uncommon valor was a common virtue." The red is emblematic of valor and sacrifice. The crossed swords highlight cooperation and unity that typify the U.S. Navy and Marine Corps "Blue-Green" Team.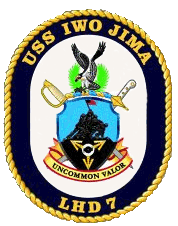 Specificiations

Class and type
Wasp-class amphibious assault ship

Displacement
40,530 long tons (41,180 t) full load

Length
844 ft (257 m)

Beam
110 ft (34 m)

Draft
30 ft (9.1 m)

Propulsion
Geared Steam Turbines

Speed
22 knots (25 mph; 41 km/h)

Troops
1,897 Marines

Complement
73 Officers, 1009 Enlisted

Armament
Sea Sparrow missile systems, Rolling
Airframe Missile systems, Phalanx CIWS, 25
mm Mk 38 cannons, .50-cal machine guns
Aircraft carriedMix of 30 helicopters,
6–8 AV/ 8B Harrier II
(Ships History Continued)
March 28 - named 2011 Chief of Naval Operation (CNO) Safety Award winner (2nd consecutive year)
April - participating in Exercise African Lion 2012, a bi-lateral exercise between U.S. and Moroccan forces in the U.S. 6th Fleet area of responsibility.
April 11 - An MV-22 from VMM-261 crashed near Agadir, Morocco, during a joint training exercise after taking off from USS Iwo Jima. Two US Marine crew chiefs were killed and the two pilots were seriously injured.
May - participating in Exercise Eager Lion 2012. Eager Lion is designed to strengthen military-to-military relationships through a joint, multinational approach to meet current and
future complex national security challenges, including 19 countries from five different continents and more than 11,000 participants.
November – Visits Rota, Spain for a port visit.
December 18-20 – The Iwo Jima ARG, comprised of amphibious dock-landing ship USS Gunston Hall (LSD 44), multipurpose amphibious assault ship USS Iwo Jima (LHD 7), amphibious transport dock ship USS New York (LPD 21), Amphibious Squadron (PHIBRON) 8, Tactical Air Control Squadron 21, Fleet Surgical Team 4, Helicopter Sea Combat Squadron 22, and Naval Beach Group, which includes Assault Craft Unit (ACU) 2, ACU 4 and Beachmaster Unit 2, return home from deployment.
The Iwo Jima ARG and 24th MEU participated in bilateral exercises and operations in the U.S. 5th and 6th Fleet AORs to include African Lion 2012 with the Moroccan military, Eager Lion 2012 with the Jordanian navy and the International Mine Countermeasures Exercise 2012 with more than 30 international partners.
The Iwo Jima ARG/24th MEU team steamed more than 55,000 nautical miles, conducted more than 2,800 flight sorties, logged more than 4,800 flight hours and performed more than 300 small boat operations.
2014
August 17 - IWO Jima arrives at its new homeport of Mayport, Florida.
December 9 – Capt. Dana Gordon assumes command from Capt. James E. McGovern
December 9 – Departs for deployments as part of Iwo Jima Amphibious Ready Group/24th Marine Expeditionary Unit in support of maritime security operations and theater security cooperation efforts in the U.S. 5th and 6th Fleet areas of responsibility.
December 25 – Sailors & Marines receive phone calls from President Barack Obama
2015
March – Makes a port visit in Duqm, Oman
July 19 – Returns to Naval Station Mayport.
2016
January – MLK Day celebration
March – 1st - Received the Admiral Flatley Memorial Award for FY 2015, it is awarded to recognize the CVN and LHA or LHD ships with embarked CVW or MAGTF, which surpass all competitors in overall contributions to safety. These teams are selected based on operational readiness and excellence, and an exceptional safety program and record.
Winners for FY 2015 Admiral Flatley Memorial Award are: USS GEORGE WASHINGTON & CVW-2
USS IWO JIMA & 24TH MEU Won the Battle Effectiveness Award!
March XX – CSSN Tyler won Junior Culinary Award Gold Metal